Technical gaps and problems of Amulsar mine project: interview with chemical/ecological engineer Harout Bronozian (USA)
Since December 2014 Harout Bronozian has been writing to representatives of Lydian Armenia and Armenia's Ministry of Nature Protection regarding Amulsar gold mine exploitation project. The correspondence has been mainly about the technical aspects of the project, which are within the scope of specialization of Bronozian and which expose many important facts regarding flaws of Lydian and Amulsar mine project. Members of Armenian Environmental Front summarize here the interview with Harout Bronozian and questions and concerns mentioned in his letters.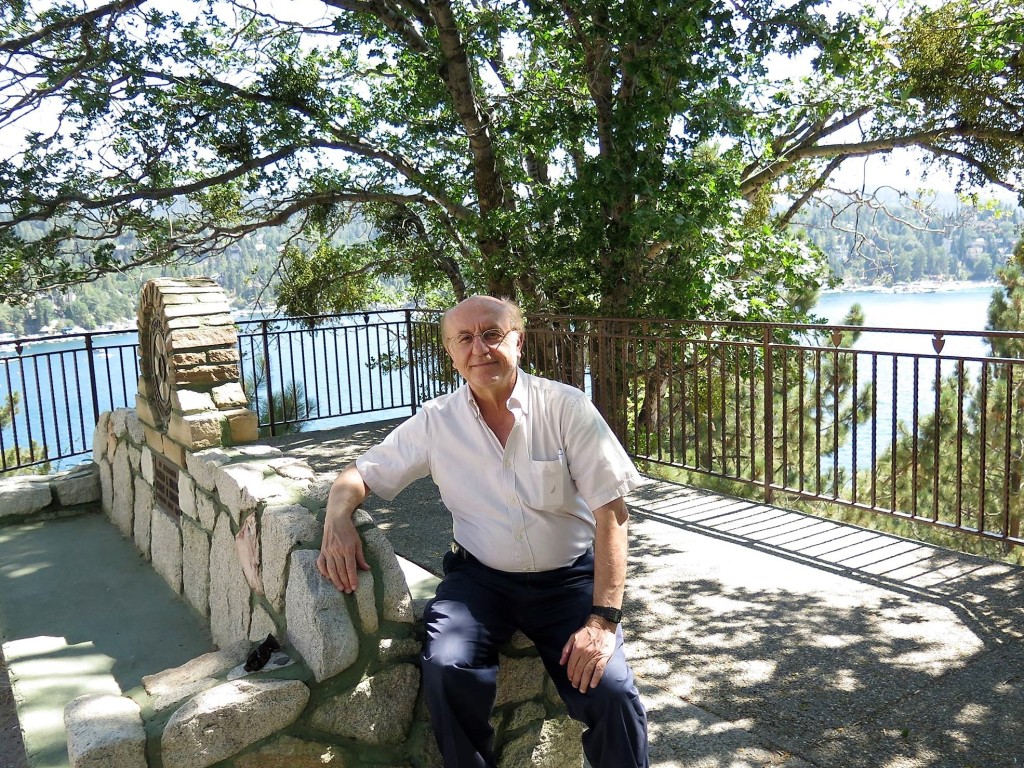 About Harout Bronozian: he got bachelor's degree in chemistry after which he went to England and received master's degree with specialization in petrochemicals and hydrocarbon chemistry. Later he left for the USA where he studied chemical engineering: this specialization studies the planning of structures and process of chemical production. In 1980-1985 Bronozian worked in Saudi Arabia at 3 different companies dealing with water treatment – he was involved in projects turning sea water into drinking water through membrane technology, as well as in a project of installing treatment systems for sewage water and organizing all the steps for this process.
In 1985 he returned to LA and 2 years later he founded a consulting and contracting company in industrial water treatment. The latter worked with gold refining companies treating their industrial waters by destroying cyanide and removing heavy metals there. He worked in this sphere for 15 years, until 2000.
Mr. Bronozian, why are you concerned with Amulsar gold mine project? When did you start sending letters to Lidyan, Armenia's government and other involved bodies? What questions did you raise and what answers did you get?
H.B. I've started writing to them since December 2014, when they came to the USA to make connections with American Armenians for showing that they care for people's or diaspora's opinion. They organized meetings in LA and NY, where I was not present. However, later those present there sent me their 30 page document. I saw only one schematic diagram there and 4-5 photos based on which I wrote around 70 questions and they replied. This is my specialization that's why I know the issue and I am concerned about it.
My questions referred mainly to technical aspects. I also tried to clarify if Armenia's government acted professionally when studying and approving the project. Here are a few questions from the letters:
Until now, after so many years, Lydian does not have a detailed engineering design for this project. Why? How anyone can evaluate what equipment will be supplied, how it will be operated and maintained? Do they have their bill of quantities as to exactly what equipment will be supplied?
Large amounts of hazardous chemical materials will be transported from international sources to the mine site, particularly sodium cyanide and caustic soda. This creates a major risk due to any spills. Also large amount of activated carbon will be imported.
What guarantees exist that there will be zero industrial water discharge from mine, taking into account that huge amount of water will be used (more than 600.000 gallons per day, around 2.400.000litre) and it is forbidden to discharge it into nature.
Hazardous waste from used activated carbon and heavy metal sludges will be produced. Where will they be deposited and in what quantities?
Who is responsible if not enough gold is found or because of any other problem Lydian abandons the site before completion of the project?
How the heavy metal hazardous waste sludges produced during the cyanide heap leaching in gold mining process will be collected, stored and disposed?
Why mining in Jermuk and why not developing other environmentally friendly projects in that area? Have other alternative projects been evaluated for Amulsar location? And why not? Why prior to approving the mining project Armenia's government has not announced a competition for alternative projects?
How can the Armenian government allow such a project in a touristic area like Jermuk, where the cost of destruction will be much higher than the profit? Besides, the management of such a truly hazardous waste facility is entrusted to inexperienced company like Lydian in a country where environmental standards are very weak and their enforcement is close to not operating.
What answers did you get and were they satisfying?
H.B. I concluded from Lydian's answers that they have no technical capacities. They are businessmen: they paid a company to design a project for them, then they nicely presented it to different banks for getting money. But there is no background. They have no idea how to solve technical problems when those arise. And they will arise. Even big mining companies such as Barrick Gold which has many years of experience in this sector and a big financial capacity, in 2015 leaked 1 milion litre cyanide in its mine in Argentine. Thus even the biggest company can make mistakes. Then how can Lydian insist that it will make no mistakes. We have the right to know all the details, what equipment will be in place, who will make them work, what oversight mechanisms will be there, so that if problems arise, system automatically stops, who and how will solve the problems?
The ministry is to be blamed for signing under Lydian's project without having answers to these questions. It is the right of Armenia's Ministry of Nature Protection to ask such questions. If we compare with home construction, when we order someone to build a house for us, we will order a project, then we will ask detailed questions to understand what exactly will be done and how, and if we don't like something, we will order a change according to our taste. It should be so in this case as well, especially since we talk about a dangerous project. It should be clearly mentioned in the contract who will be responsible if something goes wrong. If it is not mentioned in the contract, then Lydian will have no obligations. These points if not yet in the contract must thus be added. They insist no mistake will occur; therefore they should provide facts, show the whole production process, answer the questions of specialists and explain each step. This responsibility lies on Lydian, not Republic of Armenia.
There are two reasons to be strict with Lydian. Firstly, they have no experience in mining. If it were experienced, maybe there would be no need for this many questions as we would know their style of working. Now we can't trust their words, we have to study their equipments, understand their quality and to what extent the company is ready to eliminate negative outcomes, if mistakes, accidents or various technical problems arise. It is based on this that we can say what to add in the project, if they want to realize it.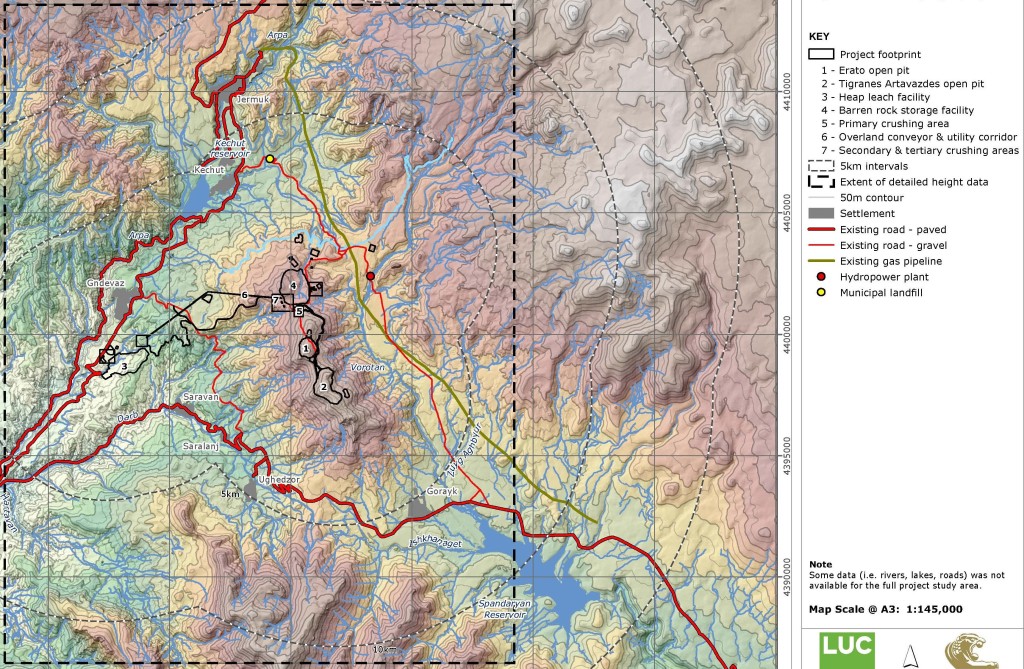 Second, they came to a place which is Armenia's best location, most valuable region and they want to destroy it. For any project the location is important. For example in the USA one can't burn garbage and get energy in Beverly Hills. However 30km away from Beverly Hills there is such a factory there working for the past 25 years. Strategically Jermuk region is very impotant as it is a river basin area. Surface and groundwaters are formed here and thus it is a place like Beverly Hills: if some mistake occurs, the outcomes of cyanide, acids or other contamination will be irreversible.
Today Lydian gives 300, 400, 600 pages of documents to those asking questions and tells them to read them. But this is not what we are asking. We are demanding them to come, have a two day conference and answer all our questions. Based on this we will know the happening. It is also important as to who will participate in the conference and who will ask questions so that no cheating takes place. Experience is very important: they can't cheat me, but they can cheat someone who is not a technical expert.
Up till now Lydian NEVER showed a detailed technical presentation on Amulsar project with the participation of the best experts and scientists, not even with the Ministry of Nature Protection. What are they afraid of?
What technical questions are you speaking about?
H.B. There are many technical questions, the answers to which are not in Environmental and Social Impact Assessment (ESIA). In their responses to my questions Lydian or Ministry of Nature Protection couldn't provide sufficient answers as well. For example, until now Lydian has not presented the plan view of its project. The factory will have two sections. In the first one the mountain rocks will be crushed after excavating them from the mountain. In the second, gold will be extracted with cyanide. The first one will cover a huge area; the second one will have smaller territory. But in the second one chemical industrial refining technology will work of which I am an expert. And I have many questions in this regard; how big will the rocks brought to the factory be? After bringing to the factory there will be need to use calcium hydroxide to process them, where will they get calcium hydroxide?
They say they will bring it from Ararat cement factory.
H.B. Yes, but what quality it has? What control system will be in use for the production line and how it will be mixed with stones? How many cubic meters the tank will be for making cyanide? What material it will be from – stainless steel or ordinary one? All of this must be clear, since wherever there is water, there is the risk of corrosion. Meanwhile that tank will be used for 10 years. Inside the tank there should be rubber surface so that it is not damaged. Since if it is damaged, it is a long process to remove and change it, the whole factory has to stop. These technical issues are not included in the ESIA. Lydian gave some answers to my questions but that is not enough. Besides writing, it should be explained and the Ministry and any person has to have the chance to ask questions, right questions, in order to know all details before installing. If wrong or not sufficient amount of equipment is placed, problems will arise. We want to know what they will do in case of a mistake, how they will solve it?
The whole production process should be presented in detailed scheme, diagram. Everything should be presented there. These are huge graphs, sometimes even several graphs. Meanwhile Lydian's diagram is a schematic diagram, which they either copied from somewhere else or used a standard one, it is of little value.
Lydian has no clue of technical questions, it has no own specialists. When I was in Armenia last October, I agreed to meet their technical specialist to discuss these questions. A few hours before the meeting I learned that they are sending not the technical expert but their public relations specialist. I cancelled the meeting. What were I supposed to discuss with the PR specialist? He/she would have no idea about technical issues, later they would announce that they met me. This company is totally inexperienced.
They say everything is written in ESIA and in technical description.
H.B. In his video interview in August 2016 Howard Stevenson himself said that they have just now started deciding what equipments to use. These people have come without knowing what equipment to use; they made a general project copying from here and there to present to World Bank and other banks to get money. The information they provide is surely not enough: I've always asked about the equipments and there has been no such information.
Lydian says – we will use the best technologies and there will be no pollution of the environment. How will you comment on this? Is it possible to extract gold through cyanide and leave a zero impact? They say if there is a leak from the cyanide heap-leach factory, they will filter it based on regulations of Armenia's laws and will pour it into river Arpa (regulations in Armenia by the way are very different, there might be rivers that are polluted, other rivers might be of agricultural use etc). River Arpa feeds Vayots Dzor region's vineyards and agricultural lands. So to what extent can the water be filtered after gold extraction with cyanide, how clean that water will be?
H.B. It is not possible, since whatever is done that water will not become drinkable. It is impossible.
Will it be fit for irrigation?
H.B. No. Since there is cyanide in the system, there is no guarantee that no cyanide or other dangerous substances will remain in it. According to Ministry of Nature Protection gold will be accompanied by mercury, meaning mercury posining is possible.
They say it is easy to destroy cyanide.
H.B. Cyanide can be neutralized, since it should be in low consistency; however there are heavy metals accompanying cyanide, such as silver, chrome. And if something goes wrong, where will that water go? For example if the water quality is worse than the norm, what will they do in that case? Daily 600.000 gallons of water will be used, where will they take that water and where will it go and how? All of this must be presented in details. In the US when you place a system, you build a concrete wall on 4 sides, so that if structure has leak the industrial water stays in that circle and doesn't leak out.
What material is cyanide and what effects it may have?
H.B. Sodium cyanide has bigger granules than dust. If one drinks cyanide, they'll die since it absorbs oxygen, so they die because of lack of oxygen. Acidity is also important: it must not be acidic, but alkaline therefore sodium hydroxide must be used in order for Ph to be close to 10. Thus cyanide sticks to heavy metals and when it does, it is difficult to remove it. One can neutralize cyanide with chlorine and hydrogen peroxide. If cyanide is to be released into water, chlorine or hydrogen peroxide must be used.
Lydian speaks about hydrogen peroxide, but I don't know where they plan to bring it from. There used to be chlorine in Armenia before, but I don't know if Armenia has liquid chlorine or not. So there are these questions too – where will these chemical substances be brought from, and if there is none in Armenia, what will they do?
Later, heavy metal sludge will be left which must be kept somewhere as dangerous substance, but where will it be kept and how safe that will be? In one of replies to my letter the representative of Ministry of Nature Protection said that there is no hazardous waste management facility in Armenia and that all solid and liquid waste will be kept in the site as a temporary solution; they say that they found several European companies that deal with waste recycling and they can eliminate the hazardous wastes. But this response is very vague similarly like other responses to my questions.
There is a great difference where the mine is. For example in the US there is infrastructure, so if the pump is damamged, you call and 24-48 hours later you have a new pump. Or if you need to change a pipe, it is quickly replaced. Will these guys have additional spare parts or materials, so that if something is damaged, they are capable to change? After all that too means expenses. In 10 years many things may happen in the factory, e.g. corrosion, especially in Armenia with its complex geographic location.
For example, what problems could arise specifically in case of Amulsar based on the information and responses you have?
H.B. There can be any kind of problem, since they are going to use huge amount of water, for example something as simple as freezing of water (like the dam freezes in winter), so how will they dump cyanide into frozen water. When it rains, lots of water will emerge in that huge area, what will they do with that water? They must come and explain to us. This is a multi-million project and so they have to explain us anything we ask them to. They will get a lot of money, so can't they bring specialists to explain? I can't ask many questions now, but once they explain, I will be able to ask precise questions.
In your letters to the Ministry of Nature Protection did you ask how the ministry will monitor the water quality?
H.B. Regarding the water quality I asked who will monitor the process in the factory. Firstly, ministry's experts should be present and working at the factory. But that's not enough, since one cannot even trust the ministry representative. Therefore it is good to have an independent expert who will have the right to carry out such a monitoring.
The government approved Amulsar's mine project without independent expert analysis or technical assessment and without taking into consideration the opposition of scientists and environmentalists. Moreover, Ministry's staff has no proper education and experience in environmental sciences and engineering. The Minister Artsvik Minasyan himself admitted that they have no expert for project assessments. How is that possible? Additionally, the environmental insurance of which the Minister is speaking about doesn't cover underground and overground water pollution. Thus, who needs this project, if large amount of water supplies in Armenia are under contamination threat.
Not only gold will be extracted in Amulsar, other dangerous chemical materials will be used there (sodium cyanide, sodium hydroxide, hydrogen peroxide) and dangerous chemicals will emerge (cyanide laden heavy metal wastewater, heavy metal sludges, spent activated carbon, activated carbon regenerant solution, and especially acid mine drainage). In case of Amulsar, the rocks contain sulfides, which after crushing will expose the sulfides to oxygen and rainwater and can oxidize to sulfuric acid producing acid mine drainage and contaminate the groundwater and surface water. This is clearly indicated in the Lydian Environmental Impact Assessment, page 26 for example, and will constitute the biggest environmental catastrophe for Armenia's groundwater and surface water contamination, on fish and ecology. Lydian company also is not member of International Network for Acid Prevention, while big companies in the world are its member. How can an inexperienced company be its member?
To justify Amulsar project's approval, Armenia's government also highlights the financial gains.
H.B. If profits played a role, it is also unjustified. My calculations based on Lydian's data are as follows (of course this is guesstimate). They will extract:
Gold: 73,000 kilo, 1 kilo = $40,000; Total=$3 billion dollars
Silver: 300 tons; 1 kilo = $576; Total: $172 million dollars
Therefore the total estimated value of gold and silver production in ten years from Amulsar will be about $3.2 billion dollars (rounded), if everything goes well of course.
Expenses will be as follows:
About $500 million to be paid to the government of Armenia in 10 years, thus 50 million per year.
Equipment and other construction costs will be $370 million.
Assuming a salary per year for one person is $15.000 per year (my generous estimation). For the period 2016-2018, salaries if doubled and for 1300 employees, total salary can be at $600 million for 12 years.
Assume another 300 million for marketing, gold refining, distribution and other expenses.
NET profit thus is around $1.4 billion ($3.2 billion dollars minus all expenses), which is thus pretty attractive for all the investors, irrespective of the environmental, landscape, business, demographic and other consequences for Armenia. The Armenian government will get about $500 million or 15% only. What that money will be used for is another question? We know that $10 billion dollars illicit money were flown out of the country from 2004 to 2013 and is continuing instead of investing in Armenia. While our national debt stands now at close to $6 billion.
Lots of questions raise, for example why AGBU affiliated investors (Ruben Vardanyan, Noubar Afeyan, Joseph Oughourlian), Vahan Kololian, Ameriabank, IDeA Foundation as well as the Ministry of Nature Protection are involved in a detrimental project for Armenia like Amulsar, in cooperation with IFC and EBRD? Did they review the enormous amount of criticisms and published information by the public, attorneys, scientists and engineers in Armenia and abroad for the past 4-5 years? Ameriabank lately extended a loan of $24 million to a company like Lydian. Does it realize its complicity? Money invested in such a project will negatively affect their reputation. And if some mistake happens, Ameriabank will also be responsible. Do they admit this?
Therefore is $500 million worth to destroy this beautiful region for the upcoming hundreds of years. One can get $500 million by making long term projects in tourism, development and export of Jermuk waters, without impacting the nature. How will this project affect tourism? What economic studies have been carried out? Whose interests Armenia's is serving – interests of the US, UK and international banks which promote interests of international mining industry and implement dangerous mining projects in various countries following the path of greed, defend an inexperienced company like Lydian and so Armenia's Ministry of Nature Protection is taking their side? This is crazy.
Summarizing…
H.B. It is sad that decision makers in Armenia have no expertise, qualification and experience, they are corrupt and thus permited the implementation of such a disastrous project to go this far. This project and company should have been rejected from the very first day taking into account Lydian's inexperience and Amulsar's location.
I think now everyone is in a bad situation if they realize the seriousness of the consequences. Armenia's losses from this project will exceed economic gains. The biggest threat is the mine acid drainage mentioned above. Jermuk and Amulsar cannot be a testing ground.
My professional advice is to annul this project to avoid disastrous outcomes and let Armenia have alternative projects in cooperation with interested investors and with consideration of Amulsar region's specific location.
March-April 2017
Armenian Environmental Front (AEF) civil initiative
Email: armecofront@gmail.com
Մեկնաբանություն
comments